&nbsp

News and Rumors


December 30, 2002
The King of Fighters EX 2 2002 to Dreamcast and Playstation 2 | Source The Magic Box

Playmore announced that their latest in the KoF series, The King of Fighters 2002, will be ported to the Dreamcast and Playstation 2. Both versions are scheduled for release sometime in 2003.

December 16, 2002
The King of Fighters EX 2 delayed | Source The Magic Box

Marvelous Entertainment has announced that The King of Fighters EX 2 has been delayed from its original date, Jan 1 to Jan 24 in Japan.

Guilty Gear Series Best Sounds | Source Sugoi!

Arc Systems/Sammy plans on releasing a new album entitled GUILTY GEAR Series Best Sound Collection. The soundtrack contains a selection of 18 tracks from previous Guilty Gear Games as well as 5 remixes. The soundtrack is scheduled for release on January 21 for 2625 Yen. The tracks listed are as followed: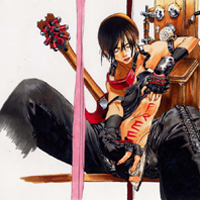 1. CONCLUSION (GG)
2. With FIXED IDEA (GG)
3. THE MARCH OF THE WICKED KING
4. SUSPICIOUS COOK (GG)
5. ORIGINAL THE (GGX NAOMI)
6. With LONELINESS THAT ASKS NOTHING IN RETURN (GGX NAOMI)
7. MOMENTARY LIFE (GGX NAOMI)
8. BURLY HEART (GGX NAOMI)
9. FATAL DUEL (GGX NAOMI)
10 STILL IN THE DARK (GGX NAOMI)
11 No MERCY (GGX Cd.)
12 WISE SUCK A (GGX Cd.)
13 BLUE TOILETS BLUE SKY (GGX CD.)
14 BABEL NOSE (GGX CD.)
15 FUUGA (GGX CD.)
16 FEEL A FEAR (GGX Cd.)
17 PRIDE AND GLORY (GGX More)
18 MEET AGAIN (GGX More)
19 KEEP YOURSELF ALIVE 2 Remix
20 HOLY ORDERS (BE JUST GOLD BE DEAD) Remix
21 LIQUOR BAR & THEME of DRUNKARD
22 WRITHE IN Remix BREAD
23 AWE OF SHE Remix

December 15, 2002
GGXX Live Concert | Source PS2 IGN

Arc System Works has announced that on January 19th the musicians behind the GGXX soundtrack will be putting on a live performance in Tokyo after the Guilty Gear Festival tournament. Performing as "Ash" will be guitarist Tohru Iwao, bassist Shinji Matsumoto, drummer Yasuhiro Umezawa, and keyboardist Koichi Seiyama, as well as special guest artists. The performance will be at the Live Inn Rosa in Ikebukuro.

December 09, 2002
Guilty Gear XX Fighter Stick | Source The Magic Box

Sammy announced that on December 12 they will release the Guilty Gear XX Fighter Stick for the PS2 on December 12 for 4500 Yen. The Fighter stick is modeled in the same layout as the arcade version layout.


---
November 12, 2002
GGXX Upgrade | Source The Magic Box

It seems that Sammy plans on releasing an upgrade to Guilty Gear XX for release in the Arcades. It has been unconfirmed what will be in this upgrade, whether it will have any new characters, backgrounds or music, or if the upgrade will just be a port of the upcoming PS2 version. The upgraded game will run on Sammy's new Atomis wave arcade board.


---
October 05, 2002
The King of Fighters releases | Source The Magic Box

A couple of tidbits from the Magic Box, all old and you all probably have heard about already but just in case you haven't.

- Playmore announced they will release the Neo Geo home version of The King of Fighters 2002 in Japan on December 19, for 39,800 yen. Other games to be released on the Neo Geo include Rage of the Dragon, Shin Gouketsuji Ichizoku (New Power Instinct in US), and SNK vs Capcom.
- Playmore announced they will release the Dreamcast version of The King of Fighters 2001 in Japan on December 26, for 6800 yen.
- Marvelous Entertainment announced they will release The King of Fighters EX2 for GameBoy Advance in January 2003.

Lets hope that The King of Fighters EX2 is a lot better than part one was.


---
July 17, 2002
Playmore Release Schedule | Source The Magic Box

Playmore has updated their game release schedule in Japan, KOF2001 and Metal Slug 3 are officially announced for home consoles:
Jul 25 - The King of Fighters '99 (PSone re-release)
Jul 25 - Metal Slug X (PSone re-release)
Aug 8 - The King of Fighters 2000 (Dreamcast)
October - The King of Fighters 2000 (PS2)
December - The King of Fighters 2001 (PS2, DC), Metal Slug 3 (PS2)

MvC2, PS2/X-Box Tidbits | Source Gamespot

Capcom announced that it will release Marvel vs. Capcom 2: New Age of Heroes for the PlayStation 2 and Xbox on September 19 in Japan. The PlayStation 2 version will allow players to compete against each other online via USB modem connections. Marvel vs. Capcom 2: New Age of Heroes debuted in the arcades in 2000, and it was also released on the Sega Dreamcast console.



---
June 04, 2002
No KoF for GP32 | Source insert credit

According to an interview by insert credit, the announcment of the King of Fighters for the GP32 was a premature announcment. I'm sure that this affected no one.



---
May 31, 2002
E3 Tidbits| Source Gamespot

Ah, E3. The show that just about any gamer wants to attend, is currently taking place this week. With all the price drops, and crop of games coming out for each system, its one of the best times to be a gamer. Since this is a fighting game site, I've gathered the more noteable news and tidbits from the show.


Capcom:

During Capcom's pre-E3 conference, Capcom talked about future plans for their Versus series. Quoted from Gamespot

Funamizu answered a few questions about Capcom's lineup of "versus" games. While he wouldn't go into specifics, he did say that Capcom has been investigating the possibility of doing a Marvel vs. DC game, and that the Capcom vs. SNK series has not been affected by SNK's demise and subsequent legal problems.

This basically throws out the rumors of Capcom losing the rights to use any of the Marvel characters. It also seems that Capcom vs SNK 2 won't be the last of the series coming from Capcom.

Capcom also revealed that Marvel vs. Capcom 2 would be released for the PS2 as well as the X-Box. Thus far its presumed that the game will be a port of the DC version. No word of any new features or characters.

It seems that Capcom vs SNK 2: E0 for the Gamecube will recieve a slight change in name. The Japanese version of the game, the EO stood for Easy Operation, while the US release the EO now stands for Extreme Offense.

Sammy announced that they would be launching their North American expansion with the opneing of Sammy Studios. The studio plans on marketing and developing titles for all consoles. Hopefully this means that Guilty Gear XX will see a wider release in the US, which when compared to Guilty Gear X's arcade release wouldn't be to hard to beat.

May 04, 2002
Guilty Gear X AE, KoF EX Release Date | Source Pocket IGN

Sammy recently announced the release dates for GGX AE and the KoF EX. GGX is scheduled for release on June 7th, and KoF EX will be released sometime in the summer.



---
April 28, 2002
Anime News | Source: AnimeonDVD

From AnimeOnDVD, some details about JoJo's Bizarre Adventure OVA.

Jojo's Bizarre Adventure is tentatively slated for a Fall or Winter 2002. The DVDs will feature a remixed 5.1 soundtrack, done by the original composer. In the remix, the original track is used, but is augmented. They still need to clear the rights to get the original stereo track.

The release will be a 2/2/2 schedule. This is done because this is their first release and want to be able meet the release dates. The original 6 episode OVA series will released first. It make up the lack of episodes, there are plans for including lots of extras and have a lower price point.

They've also released some info about another JoJo series, not too sure what it is, but the press release is below.

JoJo's Bizarre Adventure out on Region 1 DVD Fall/Winter of 2002

Based on the original manga series by Hirohiko Araki, the first volume of "JoJo's Bizarre Adventure" DVD will be released in Fall/Winter of 2002. 13 episodes will be available on total of 6 volumes, with sound and music upgraded to 5.1 surround system for the original 6 episodes. Character design and animation director by Junichi Hayama, music composed and arranged by Marco d'Ambrosio of MarcoCo., and sound design by Tom Myers of Skywalker Sound.

Street Date: Fall/Winter 2002 (date TBA)
Episode count: 1st Volume 3 Episodes x 30 minutes each
Format: Region 1 DVD
Animation Production: A.P.P.P.
Executive Producer: Kazufumi Nomura
Distribution by: TBA
Official Super Techno Arts Inc. Website Launch Date: 5/01/02 http://www.supertechnoarts.com

More than 100 years have past since the battle between Jonathan Joestar and the vampire, Dio Brando. Dio's escape from the ocean depths awakens the psychic power known as "Stand" within Josef Joestar and Jotarou Kujo (JoJo). They join forces with other Stand Users to face the ultimate evil to save JoJo's mother Holly from the deadly curse.

Finally, Manga also announced that Street Fighter Alpha 2 would be in prepredouction, a year from now.

April 25, 2002
Capcom vs SNK2 : EO | Source: Unknown

Capcom has announced Capcom vs SNK 2: EO (Easy Operation) for the Gamecube. Its basically the same as the Arcade/DC/PS2 version with the addition of an ism called GC-ism. Its basically an "Easy" type of control, considering the Gamecube's controller wasn't meant for fighting games.

April 02, 2002
SNKNeoGeo/Playmore's Official Site opens | Source The MadMan's Cafe

SNKNeoGeo/Playmore have opened their official site. They've announced that the King of Fighters 2000 will be released on the Sega Dreamcast. Its been said that the Alternate Strikers will have unique backgrounds during 2P mode. They will also re-release Mark of the Wolves and The Last Blade 2 for the DC, under a Best Buy brand. They've also included some info about the new Rage of the Dragons game, as well as some wallpaper from the King of Fighters 2000 and 2001.

According to various reports the new Neo Geo title Rage of the Dragons. indicate that it is a fighting game based on the Double Dragon series. Not only that, but the rumours of an MVS version of SNK vs Capcom are true.


Guilty Gear XX Release Date | Source The MadMan's Cafe

According to Japanese site G-Front, Guilty Gear XX is scheduled to be released on May 9th.

Why do I have the feeling that this game will be extremely hard to find in an Arcade outside of Japan.


Nakoruru Adventure Game | Source The MadMan's Cafe

Sega has revealed that the Nakoruru adventure game "Nakoruru - Ano hito kara no okurimono" for the Sega Dreamcast, has been rescheduled in release from 3/21 to 3/28.

Originally a PC game by Inter-lets Co., the Nakoruru adventure game has been ported to the DC by KoolKizzs Inc. In addition to newly added modes such as the "read-back mode" as well as a "character clock" for the VMU, the Dreamcast edition also comes with a Nakoruru figure (125 x 54 mm).


"Nakoruru - Ano hito kara no okurimono" is scheduled for release in 3/28, priced 6800 Yen.

Nakoruru OVA | Source The MadMan's Cafe

Quoted from the MadMan's Cafe:

"Nakoruru - Ano hito kara no okurimono" is scheduled for release by Groove Corporation on VHS and DVD in 5/25, priced 5800 Yen (normal edition) or 6800 Yen (w/limited edition phone card). First shipments will include a mini-pencilboard as a bonus. The DVD version will also include a bonus of 23 minutes of visuals and voice drama.



---
March 13, 2002
GP32 Fighters | Source The Magic Box

The Korean firm GamePark has announced that Arc Systems will be porting a version of Guilty Gear to their handheld system. Other fighters confirmed for the system is Street Fighter Zero 3 and The King of Fighters.

For those that don't know the GP32 is a handheld system much like the Gameboy Advance. I'm not sure how succesful this system will be or if it will survive, like the NeoGeo Pocket Color, or even make it out of Asia, like the Wonderswan Color, but we'll see. You can check out the official site here GP32.

March 12, 2002
KoF 2001, CvS 2 for GC | Source The Madman's Cafe

I seemed to have missed a lot of news. Oh well, since I'm too lazy to go and search for the news I'll just write what I remember off the top of my head. Um, The King of Fighters 2001 is slated to be released on the PC, apparently with some new features and characters. It will also be released for the Neo-Geo home system, 500 copies of the game will be made.

Capcom has also announced that Capcom vs SNK 2 will be released on the Gamecube. This goes with an earlier news article about Capcom releasing an unmaed fighter for the Gamecube as well as the fighting pad to go with it.



---
February 04, 2002
Guilty Gear XX Pics | Source The Madman's Cafe

The MadMan's Cafe recently got some new pics of the 4 new characters (so far) in Guilty Gear XX. The site is currently in the process of moving to a new server and for now the pics cannot be found on the site, however he did send the pics to those that ask on the BBS. Check out the pics below.



Ino
Zappa
Slayer
Zappa vs Testament
Ino vs Jam
May vs Slayer




---
January 27, 2002
New Capcom goodies | Source Raving Toy Maniac

Raving Toy Maniac (RTM), reports on some new Capcom goodies. The first is by a company called Moby Dick, who plans on a line called Capcom Queens. There are no pics for the line at the moment, but currently Chun Li, Morrigan, Cammy, and Lei Lei (Hsien-Ko) are planned for the first set. The figures are supposed to be a combination of dolls and action-figures. No idea what that means.

As for other toys Banpresto plans on releasing a Valentine's Day version of the Capcom girls. The line consists of Chun Li, Sakura, Morrigan, and Lilith. Also all four figures can be combined to form a heart. There is also a Player 2 color set.





King of Fighters 2001 for PS2? | Source The Magic Box

The Magic Box reports on an unconfirmed rumour that Eolith plans on porting The King of Fighters 2001 for the PS2. Let's hope that this is true.


January 20, 2002
SNK NeoGeo's upcoming plans | Source The Magic Box

Quoted from the Magic Box:

- In a recent interview, SNK NeoGeo Hong Kong has revealed the company's plans for the year. SNK NeoGeo Hong Kong has been re-establish early in January, after the closure in 1999. SNK NeoGeo Hong Kong has confirmed that the pachinko maker Playmore has acquired all the intellectual properties of SNK, and they have re-established the game business in Korea, Japan and Hong Kong. SNK NeoGeo is planning to release 5 arcade games and at least 2 home console games this year.

- The first new arcade game will be released in February
- A new fighting game will be released in May
- Eolith is currently developing The King of Fighters 2002, the game is scheduled for release in September
- Before the release of KOF2002, SNK will be hosting a KOF2001 tournament in Asia
- Brezza Soft is co-developing several new titles with SNK NeoGeo
- Sun Amusement will continue to publish SNK NeoGeo arcade titles in Japan, and Brezza Soft will handle the publishing business oversea
- Korean firm Mega Enterprise has acquired the rights from SNK to develop the side scrolling action game Metal Slug 4
- New sequels of Garou: Mark of the Wolves and Samura Spirits are under development.


January 10, 2002
Capcom vs SNK Pro on the PSOne | Source The Magic Box

The Magic Box has reported that Capcom plans on porting Capcom vs SNK Pro to the PSOne. No word on any new features/modes/etc. but most people are already predicting that it will be toned down compared to the Arcade and Dreamcast version.


New Darkstalkers game | Source The Magic Box

It is rumoured that Capcom plans on releasing a new sequel to their Vampire series, better known here as Darkstalkers. The game currently has the name Vampire Solider.


The King of Fighters Online | Source The Magic Box

Apparently an online version of the King of Fighters is currently in development by a Korean company, Unotac. This however is not your typical KoF game, looking at current screenshots it looks quite similar in gameplay to games like Everquest or Final Fantasy XI. The game is expected to be released in 2002, with a US release date sometime in 2003.


Marvel vs Capcom 3 | Source IGN

IGN reports on a rumour that Capcom is currently developing Marvel vs Capcom 3. They've stated that the game will be released on consoles, no words of an arcade version.




Back to News and Rumours